Whether you drive a Corolla, Camry, Tundra, RAV4 or any other Toyota model, your tires were selected to provide superior performance and comfort. Toyota performs extensive evaluations to determine which tires are best suited for each vehicle. Whether your car requires Michelin, Goodyear, Dunlop, Bridgestone or another tire brand, you can trust that the
Legends Toyota
Tire Center includes the approved, recommended brands to deliver the best driving experience.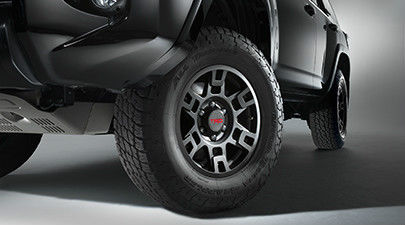 Buy TRD Wheels in Kansas City
Legends Toyota carries the latest Toyota Racing Development, or TRD wheels to maximize the performance of your Toyota car or truck. Every TRD wheel incorporates the proper weight, offset and brake clearance to ensure that you get proper fit, finish and reliability. Contact Legends Toyota for the best selection of TRD performance wheels at the best price in Kansas City, starting at just $660 for a set of 4 wheels.